Keep Salary Brooke Beauty Spot
janetcattiermusicandwritings.org.uk
           Stories Relating to the tile and the disabled       
This world is geared towards perfection, hating flaws. Moira and Janet Cattier are the same person. Penny is her daughter Vanessa.  They both have had to fight opposing thoughts vilifying them because they are what the world hates. Ever since Jesus Christ came to Earth, and before, this has been the case. These two 'fighters' have been through the mill in order to obtain a normal life. I, Janet, have been up against twisted views from even so called friends and, but rarely, from family members, who have helped and encourage me in my various projects and pursuits. 
     A doctor once said to my mother when her I was growing up:
Disabled people are often treated with suspicion, as if they do not have rights and don't know what they are doing.   Hence the ongoing bullying especially from the mental health services and people suffering from mental health issues. But believe you me, Janet 'looks out' for her family.
     Janet's father was an airmen during the second world war. It was this war and its lack of medical facilities that caused her mother to give birth to a disabled daughter. Therefore, compensation should be on the line as is the case in any war injury... 
        Please Save Salary Brook Beauty Spot, Nature Trail: and nearby bluebell woods.
                                                     A Short Story On Salary Brooke
Joan sat down with a cup of tea resting on her kitchen table. She was grateful for her home,and surrounding, although all had not always been like this. She went over in her mind, the people she has met and how they had been affected in their lives.
      I woke with headache with all this! I nearly phoned ambulance for myself. I mite have to invoke my social workers if I need help managing. 'The old dears side!' Meals on wheels and support. I am okay now. Had a Chinese takeaway last night and spaghetti bolognaise for lunch.
Some apples are falling off Steve's apple tree he grew from a pip when he was hospitalised. Nice they are.   Joan mused, staring out across the countryside, framed by her living room window through her kitchen serving hatch. Hopefully, this beautiful spot will always be here for future generations to enjoy. Salary brooke must not be spoilt. But greedy housing developers are 'itching' to get their hands on it... have tried, they have, over forty the years she has lived here.
'Janet's problems will start when she wants to get married.'  A quote by doctor at Great Ormond street London  during the early 1950s
                         MP3
Moderato:  second movement of my string tro.    All my work is copywrite reserved. I would, however, feel great if a publisher showed an interest...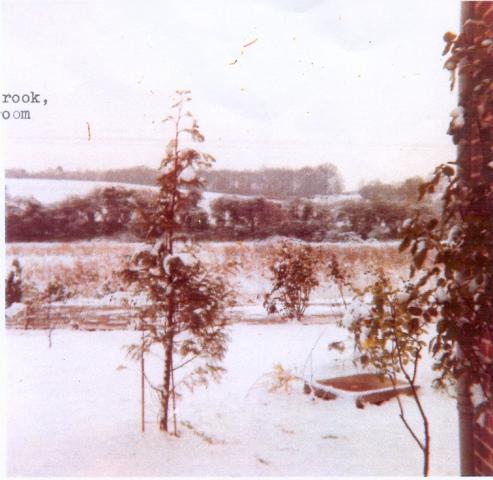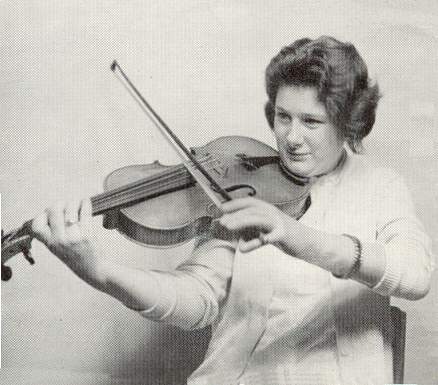 I wrote En Route many years ago while studying music composition. I 'cleaned this amazing string trio under Alan Parsons when I moved to Colchester. This piece has four movements.
                      MP3
    Allegro Vivace:  first movement of
    my string trio. Two violins and cello
MP3.        Click on the picture, to the left, of me and my Plymouth brethren cousin, Johnny Rowe, to play my moderato, third movement of my string trio. The whole work was written when I was in the Wingield music club. I polished it under  New Music founder, Alan G Parsons, during the 1980s. I  moved to Colchester  from Chigwell in  the August of 1976.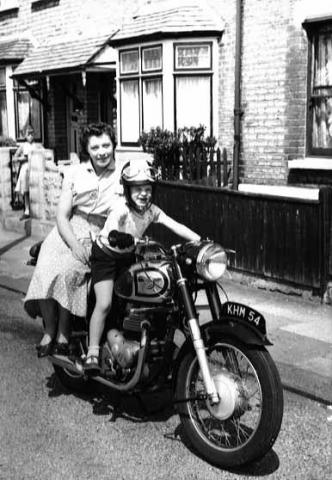 MP3 
Cick on Steve and our mother, Ivy, to play Andante, the fourth moevment of my string trio, En Route.  This is my father's motorbike: we have competed our journey and arrived home at 25 Richmond Road, Walthamstow E17.