Justice for Moira
janetcattiermusicandwritings.org.uk
Decet vulputate nulla roto
It is irresponsible of the Mental Health system to do a report on Moira mother and her daughter.  Some of the things are slanderous and untrue. The mother has kept a copy and wants me to help her take them to court, even though the bible says:   'Don't take each other to court,'   I now know why Jesus says this.I never wanted to go to court to court, but my ex husband did. The court fleeced us, and when the amount mounted up and came to the equity of our house they said no more court cases! That was in the local court handled by Martin Ward, whom the ex harassed at the judges house. That judge later died of a heart attack...
      I did not want a divorce but Lord Justice Lane in the High Court London awarded it to me for his unreasonable behaviour, not him. He wanted the case to go further and further.   Telling lies.
      I told my story because Moira's is the same in that the mental health service has written a load of lies in a bodged report written by them in February 2014. So much for patient confidentiality and poor daughter Penny should not have the past keep being dragged up:  'Not good for the soul or it's well being.'
     I was disgusted when Penny's mother showed me the report.  I told her that I wrote all over the place aout the Legal Aid system and that  the Lord Chief Justice at the time, Lord Mackay, came to Colchester to sort it out; I believe the Legal aid system was changed after that. I have written a long poem, like the Facist one I had thrust in my hand in Walton on the Naze, and will post it on my website. Why are people so stupid? 
     Now Moira wants Justice for herself and her daughter.  She wants another GP, a good one, and a different specialist for Penny, and will fight all she is worth to get her daughter  'not plied with so many different medications':   all because of a TV Competition Chief judge's  hate for Moira and his hate at doing the jury service The Crown Court Judge did not sentence Penny because he believed she was not guilty!  But the jury were a motley crowd of people! 
     Moira's mother never has had nightmares, but she does now and wont even speak to the present doctors because she believes they are stupid and prejudiced.   Only after money.  

Decet vulputate nulla roto
If the mental health doctors force Penny to have injections of any kind, we will write to the General Medical Council over the doctors bad prescribing, invoking Maudsley Hospital's  diagnosis of my brother Stephen: Dr Vicky Ripeer took him off all medications and saw how he improved on her special diet.  We mean it. Their feet wont touch the ground as we will have nothing else to lose. Moira has asked me to write this down.  Everybody knows  it is Penny's right to refuse. The law and Chemists have told us this. It could be argued the doctors are preying on vulnerable patients, making their lives and that of their families a misery...  They have no time for the grief they cause the families of their so called patients!!!: they run away from them like scared rabbits in front of headlights on a motorway.  Disgusting behaviour from them, we have experienced.  Penny does not want their super strong medications or their injections.   Has anyone else had the same experience as us with the awful mental health system: I had the legal aid system changed through Lord Mackay who came to Colchester. I will do the same with the mental health system if they force injections on Penny. Penny has stressed strongly that she does not want these... If my brother had not been sent to the Maudsley, with Kings  College Hospital nearby, he would have died in Colchester's Severals or Claybury.  Penny could be the same as Stephen. Daniel, my then husband, was studying a PHD at the time,  and had all the best books on the subject of mental health so I do know what I am talking about.  He taught the subject at the Loughton College of further education during the evenings to supplement his school teacher's wage.
     I have included a newspaper cutting explaining what happened to my brother Stephen in Claybury. He must not have any psychiatric drugs as found out at the Maudsley and Kings College Hospitals.
This is a letter I wrote on behalf of my brother. I will fight for Penny in the same vein. I have taken some names out and an address.
                                                                                                     12th  February 2004 .    and the 2nd of January update at the end
Rt Hn Bob Russel MP.,
House of Commons,
 London,   
SW1A     OAA
 Dear B ob Russel,
                 I am appealing to you on behalf of my brother,      , who lives in my deceased parent's house.   They were his carers.   My mother, when my father died, got no help even though she was sick herself.   She only lasted two years after my father's death, - this was certainly a case where "carers need carers!
                 He has extreme food intolerance, or allergies.   He was diagnosed by the Maudsley, and King's College Hospitals in London. 
                 My parents had a hard life caring for him.   They even had to move from Abridge to Colchester (Essex) to get him out of Claybury Hospital, Woodfordbridge, in order to get him admitted to Several's Hospital which then sent him back to London where a top dietician discovered the allergies..   This top dietician from America was allowed by Dr. Noble of the Maudsley to have test done on Stephen as a last resort.   She was Vicky Ripeer from America who has written books about food allergies.   She suffered the same herself.   Stephen was ill treated in Claybury and his case was reported in the Woodford Gazette newspaper.
                  He had been prescribed a special dietary Soya based bread flour, TRUFREE NO. 1,  (and is the only flour that suits hi) made by a  firm in Clacton-on Sea.. This firm is TRUFREE,  TEL; 01206 711801.   They have now discontinued making my brother's type of bread floor due to  expense cut backs.
                   As no other firm's bread and flour suits Steve, he has been without this staple food for months,  
           Another thing bothering me is that Social Services are not interested in our case, especially his, giving him no support!  I cannot believe this.    And the Essex Disabled Association  (EDPA) cannot issue any more travel vouchers after the 31st. of March this year, owing to the lottery withdrawing it's funding towards this very worthy cause.     I used these taxi vouchers to "give eye" to my brother.
           I Used to be able to see if he was all right at a moments notice using the above vouchers.   I have cerebral  palsy and am profoundly deaf, living on my own with the help of carers whom I pay.   I send them up to my brother's once every six weeks to give him a good clean  out at a cost of 40 - 50 pounds!   We are not rich. So you can see what little support my brother has had is being eroded away due to the lack of funding,  
                       I am at the end of my tether worrying about him and his dietary problem, and no one seems to be bothered!   I am sure he is not mentally ill and he fears going into a mental hospital again.  He is not violent.  But I shall be the one who will end up dead like my parents, if this lack of support goes on.  I have nobody accept a daughter who is suffering.   So you can see how desperate I am.    It will cost social services much more in the long run if they do not support him with his diet; and thus helping me. He also ha Wysoy baby milk powder because he is intolerant to cows milk.
                      He has recently had to ask my close relative, Ken Rowe,  in Canada for the money to see a doctor in Harley Street (£350)  He paid his and a helpers fare  to do tests on his bladder which he could not wait for on the NHS.   They had previously cancelled his appointment on their waiting list and put him on a much longer one.   I am hearing of patents with hernias waiting for over a year, especially those in their late seventies.   I have an elderly neighbour who is desperate for an operation   What is becoming of the NHS?   Too much paper work?  When one letter would do for two etc.
                     I have enough with my own health and personal situation, as well as my daughter's - and my daughter comes first!
                     In my opinion treatment of dietary problems should  not be down to how much profit the firms  can make!   There should be a special factory ran by the government to make people like Stephen's bread and it should be baked and delivered on his doorstep, no ifs or buts!   Please can you help me once again, Bob.  
                  Having  C.P. and nobody nearby in my FAMILY TO HELP IS NO JOKING MATTER.
            I AM TOTALLY ALONE, ESXCEPT FOR MY CARERS AND THE GOOD WILL OF FRIENDS. STEVE, BECAUSE OF HIS CXOINDITION IN THAT HE FINDS IT HARD TO SOCIALLISE IS TOTALLY ALONE ACCEPT FOR ME AND THE ABOVE CLEANERS WHO GO 0NCE EVERY SIX WEEKS - WHICH HE PAYS out of his living allowance.
                  I IMPLORE YOU ONCE AGAIN, BOB, TO GET SOMETHING DONE IMMEDIATELY ABOUT HIS SPECIAL BREAD AND COULD IT BE BAKED THIS TIME AND DELIVERED TO HIM   I RMIND YOU IT HAS TO BE THE SAME INGREDIAENTS AS TRUFREE NO. 1.
                     Yours sincerely,
                                Janet Cattier
PS  Stephen looked awful when I visited him on Wednesday for a couple of hours.  Edpa had sent me the very last of the taxi vouchers which have to be used up by the end of March!  Then there are no more.   The round trip cost £14!       He will go to sleep without his proper diet.   He cannot eat dairy products wheat, corn, maize, oats, beef, and too much rice.   He also has other intolerance which include dust mite so he must have his home hoovered and cleaned often.     I must stress I have no one else to speak for him, so please lobby the government to get something done for Stephen soon!  And he must never again be admitted to a mental hospital, who will kill him with the wrong treat
Update 1st of January 2016. Not only does Stephen Cattier have to pay for his SMA Wysoy powdered milk, Atos have stopped  his disablement benefits. How cruel when he retires in march  and he has and still is very ill. If he was to have a relapse over this 'Eton ion' behaviour of Atos he will be costing the nHS thousands more. He is to now suffer the stress of appealing against their decision.  I am afraid for him...   I, as his sister, have seen him suffer so much throught his life. He been ill since birth and was obviously caused by that awful  World War 2.  Added stress to me also.  I oversee him..He will be another death on Atos list.
Our poor mother received no monitoring of her pregnancy during the war years with me and was told she was not entitled to a council house with me they were giving them to TB victims. I was told by the midwives after I gave birth to my daughter that the first baby lays the 'nest' in the womb for the next one.  As there was no NHS when my mother had me after she was evacuated to an isolated cottage during the war, she again had no proper treatment. By rights we could sue for compensation if he needs money to live on.  I got all the forms and a solicitor interested once, but felt sorry for the government and said no. But I wont the next time I  to sue for war damages. There should be no escuse to put the best doctors on the war front...
Neither of us have been able to realize our dreams owing to that war. Also our father fought in it and saw his best friends lose their lives a bomber pilots.
I have been subjected to disability hate crimes, and my brother also has been. 
Yes this life is so unfair and hopefully the next life will put a stop to  this inequity.  Our dear Lord Jesus Christ will make sure after his second coming where he will rule over all the Earth in peace. I am looking forward to that looking at the state of thje world today: prophesied in his Father's Word the Holy Bible. I implore all to start reading this important book which holds the destiny of humankind.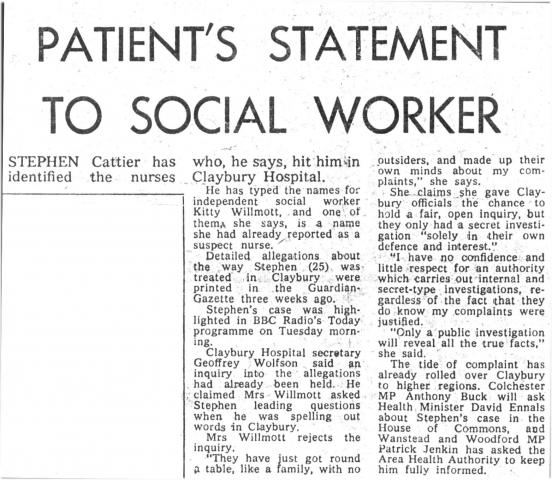 My relative mentioned in the letter to Bob Russel below, is a brother to me and is Ken Rowe who has the Order of Canada which is the equivalent of a Knighthood in England.
Tel;
                                                                              Colchester
                                                                                             Essex
                                                                           6 February 2008
The Lord Chief Justice,
House of Lords,
London,
SW1A OPW
Dear Honorable Sir,
I am appealing to you to help my daughter, who is innocent of the charges brought against her. I have included a collection of letters, which have already been sent to various law people over a period of aprox. 12 months, to inform what the case is all about.
I am 63 years old and suffer with deafness and cerebral palsy, and have a brother, who is also disabled. Both our parents died some years ago. My daughter, Penny, is also disabled. As you will see kn the paper work, Judge David Turner QC tried to get the case dropped but the family, who are bullies, still want to carry it on - now under the lesser degree charge of affray. My daughter cannot take any more court cases and tried an attemp... last Thursday to avoid going to court again this week. There have been many court cases and she could not stand another, and rightfully so. I want her to come home from the Lakes unit next to Colchester General Hospital so I can make sure she eats properly: but I am afraid she might make another attempt if she is under threat to go to court again.
I cannot understand the power the family have over the law courts? It must be costing the tax payer thousands... Penny only went with the other accused, to help as a by-stander but unfortunately got drawn in and beaten badly. If she had called the police over her own serious injuries, it would have been that family who would have been charged and prosecuted.
I beg you to strengthen Judge Turner's plea to the CPS to now drop the case - I am of the opinion that the prosecution are really willing to do so but are being coerced by that mother pf that family who is an alcoholic. My daughter will not survive if she has to attend court again, thinking that justice is non existent. She only knew the family for three weeks and took their son to hospital because he was seriously ill. In fact she tried to help him and it was another girl, his ex, who propounded his drug problem.
Yours faithfully,
Mrs M.
PS. Could it be argued that big money is made the longer cases take? This could be why this case has been allowed to go so far. If this is the case, then pity the mentally ill who get caught up in the court system!
Since ten lies have been said about Moira and me. I am helping to do a dossier on the mental heath service who said Penny was fit enough to go to court :
        "It will do her good to stand up for herself!" said that stupid doctor Douse.. I WARNED THEM OF THE CONSEQUENCE.. But they had 'no ears' with which to listen.   Penn's mother and me will not let this ret until we get satisfaction from the NHS and the Government which must be leaking money over cases like this. Of course, it could be argued, while they are getting paid they just do not care... 
This s a letter sent by that poor mother on behalf 9f her daughter Penny appealing to have the awful case dropped. It was the police fault for taking notice of liars ...
The mental health doctors never warn the patient or the relatives of he side effects of antipsychotic drugs: Moira and her daughter weren't warned.  They both went through Hel;l and what are the long term damage of these drugs?  Penny is not schizophrenic, but these drugs made her appear that way. Now she has been off these antipsychotic drugs, after a 'fight', she is miles calmer. Moira does not want a repeat of that awful change in her kind hearted daughter, and implore the mental health system be changed in that the relatives and patients are warned of the side effects of all medications. After all it is their human right to be informed.  I implore Jeremy Hunt to look into this please, as a lot of heartache and money could be saved...  I don't want any other family to go through what Moira and Penny are experience.  
     On another occasion, after a sectioning, Moira could hear her daughter screaming in agony in a room in the psychiatric ward. She was not screaming when the hoard came round to section her. On demanding to see her daughter to make sure she was okay, the charge nurse kept Moira outside in the ice and snow and tried to intimidate her. She told Moira that she had been threatened by her with her walking stick!  Now Moira saw that coming and quickly put the walking stick behind her back. Then the charge nurse said she had called the police to arrest Moira for assault.. Moira waited until the police were near, and then quietly struggled toward a bus stop, crossing the busy Turner Road. With her parents dead, Moira had no one to help her. Fortunately, there was a  male nurse standing behind this female draconian charge nurse, who seemed bemused. .He was smiling at Moira. I suspect he told the truth to the police, because there was no police visit to Moira!   Do they call this a compassionate NHS? Something must be done to make sure that the relatives and patients are not in fear of the system.